Professionalism
We offer a wide range of services, but we specialize in Customer Care, contact center, custom software development, IT consulting, and more.
Custom Processes

Each company is a different world, that is why our Contact Center proposal is tailor-made, adapted to the internal processes and needs of each client, from health companies to logistics companies.
Optimization
We constantly carry out audits, analyze the vital points to implement improvements and generate reports every week, month or quarter.
We ensure Outsourcing services
We have sufficient expertise to ensure custom Outsourcing Services. Our extensive experience is essential for establishing long-term partnerships and relationships with our clients.
At LinkSolution, we have successfully developed a service policy that is based on defining a service with the following characteristics:
Proactivity: the ability to integrate existing monitoring and control methods in order to conduct an analysis of the overall behavior of the installation and then deduce possible saturation problems and reasons for the cessation of IT services.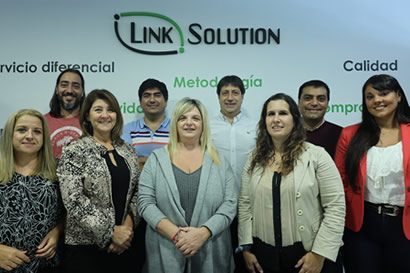 We use proven methods and procedures. These are a set of policies whose effectiveness and efficiency have been demonstrated, and they are adapted to different issues, which are documented in the development as well as in possible changes that, if necessary, are carried out.
Our services operate under an SLA, or Service Level Agreement, which sets out the measures to be met for the perfect performance of the service. These measures are contractually established and are measurable and verifiable, thus eliminating any doubts.
LinkSolution equals synergy. We add value, optimize your costs, and expand the possibility of hiring the service in other areas of your business.
Commitment to quality
The processes for the services we offer are governed by the accuracy of ISO9001:2015 standards.
They are not just solutions
LinkSolution is committed to the quality of the services offered, which allows us to offer differential products in the field of Contact Center outsourcing, Technology, Management of turnkey operations, consulting, CRM, ITIL, implementing on each occasion the tools of most up-to-date management..

Marcelo Diaz, Presidente, LinkSolution